Annual Luncheon - 12th November 2006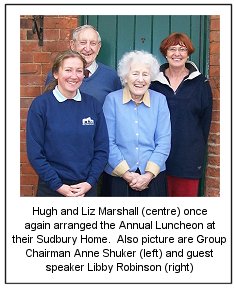 As in previous years the 2006 Annual Luncheon was held at the home of Hugh and Liz Marshall on the outskirts of Sudbury, Derbyshire. This year's event was extremely well attended, with over forty people packed in to Hugh and Liz's delightful home. The highlight of the event, apart from Liz's renowned pheasant casserole, was a talk by Libby Robinson from the Globetrotter Stud in Charente, France. Libby was certainly no stranger to the group, as before leaving to establish the stub in France she had spent sometime living and working in Midlands. Her talk, which was comprehensively illustrated by some wonderful pictures, mainly taken by her daughter Fleur, concentrated on her life in Charente and the fell ponies she breeds and shows. Many thanks to Libby for making the journey from her home to be with us at this event.
Of course no fell pony event would be complete without a competition and this year a photo show was organised by group secretary Diane Key. This attracted some wonderful photos of fell ponies and their owners. To make the competition more interesting it was divided in four classes; - ridden, inhand, driving, and humorous. Rosettes were awarded to the first four in each class.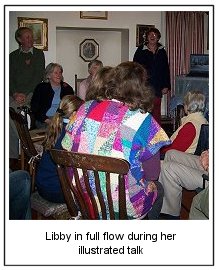 Also this year saw the introduction of the best "pudding" competition which certainly caught everyone's imagination and ensured there was a wonderful selection of puddings to choose from once the main course was over. This was judged by Libby who got stuck in to her task with little persuasion, especially as it meant sampling every pudding that was on offer. After much eating and long consideration the title of best pudding maker went to Vicky Mollart for her mouth-watering apple pie!
Once again this social event was great success which gave everyone the opportunity to meet together in lovely surrounding, expand their knowledge of fell ponies, and have a chance to chat to friends old and new.
A real big than you has to go to Hugh and Elizabeth for organising this event and once again opening their home to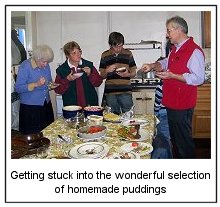 the group.

Click here to see photographs of this event >>>>>>