Laminitis Talk - 2nd April 2006
On 2nd April The Midlands West Fell Pony Support Group held a very successful talk on laminitis at Great Bridgeford Village Hall, near Stafford.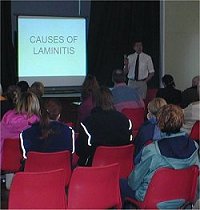 Forty-three horse and pony enthusiasts heard Ken Anderson, a partner with local vets E.C.Straiton give a detailed description of the causes, treatments and latest thinking about the problem. He illustrated his talk with numerous slides including many showing the development and treatment of laminitis in horses and ponies he had treated. He also included some rather gruesome pictures of actual cross-sections of diseased hooves taken from horses which unfortunately could not be cured! As well as discussing the medical treatment of laminitis Ken also looked at ways a farrier might help deal with the problem by either trimming or applying specialised shoes.

The event also featured a table top sale which was the downfall of many people. Time and time again the familiar cry of "I'm only going to have a look as I don't need any more riding equipment" was followed by a slow walk back to the car with an armful of purchases.

The Midlands West Fell Pony Support Group arranged the day, not only to help inform local horse and pony owners of the problem of laminitis, but also to raise money for the laminitis trust. A cheque for £80 was sent to the charity.