Showing Clinic - 21st March 2010
Glebe Farm Equestrian Centre, Caven Arms, Shropshire
My First Event. By Jane Cooper
The sun shone on Sunday 21st March 2010 for our showing Clinic at Glebe Farm Equestrian, Craven Arms. It was a superb setting for what was a very informative and enjoyable day. I have never been in a show ring before let alone organise an event, I learnt so much and had a ball!
Mary did a wonderful job in sharing her vast knowledge of judging and of course Fell Ponies, this put us all at ease with lots of encouragement.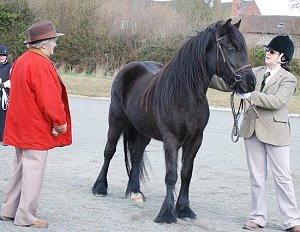 There were five pure bred Fell ponies and three Fell Friends who, despite their ages and abilities behaved impeccably. We had an in-hand session in the morning where Mary gave advice on what a judge would be looking for in the show ring. She covered correct use of tack, handling and running up along with many other useful tips. In the afternoon came the ridden session where all participants gained knowledge and experience with positive encouragement, finishing with a fun show and a question and answer session for all involved this made for a fantastic end to the day.
There were refreshments, a raffle, tack sale and our Fell merchandise stand thanks to Jane Glass.

I have received such kind comments since this event; it has spurred me on to take my Dave (Brocklebeck Border Brigand) who I can very proudly say won the in-hand session, on to bigger and better things.
I would like to say a special thank you to Diane Key for her support and to Lesley Weston for some of the most fantastic photos ever!, Alison and Emily from Glebe Farm Equestrian for allowing us to use all their wonderful facilities, to G8 Fire Solutions Ltd for sponsoring the commemorative rosettes and Mary Longsdon for mentoring.

Finally it is always great to meet Fellow Fells and Fell Friends and their owners, Thank you to all! Here's to the next one……………